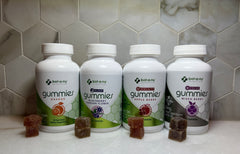 Do Gummies Work?
Gummies are colorful, tasty, and can be packed with ingredients - but do they work? 
If you're deciding between gummies and other types of CBD, it's important to understand what's going on inside these fruity, chewy, delicious little squares first.
WHAT ARE GUMMIES?
Gummies are soft squares that can be made to taste like whatever ingredients they contain. Many gummies on the market focus on vitamin and mineral content; especially children's vitamins. Since they are made with health in mind, they would not be considered candy. However, they do often come in fun shapes (like bears, mini-fruits, etc).
Gummy vitamins first became available in children's forms, but have caught on for us pill-hating adults too! 
Gummies have been proven to be effective, and in fact, gummies can contain more ingredients per 'serving' than their softgel and capsule competitors. This is due to the size of gummies; manufacturers can make gummies much larger than they can make capsules or softgels.
INGREDIENTS TO WATCH OUT FOR:
Some gummies contain an alphabet soup of ingredients, toxic flavorings, and colors. These are the ingredients to be aware of when shopping for gummies.
The word 'artificial' should be a red flag everywhere, but especially in gummies. Artificial flavorings, artificial colorings, and artificial sweeteners have a myriad of side effects, and no amount of them is "worth it" in your gummy supplement.
Artificial flavors have been linked to change in taste preferences and are most often made from petroleum.**
Artificial colors have been linked to developmental challenges in children, and have been shown to disrupt healthy digestion.**
Lastly, artificial sweeteners. Artificial sweeteners hide behind other names, like sucralose, aspartame, and ace-k. One must look out for them extra carefully.
Recent studies have shown that sucralose can alter the gut's microbiome.**

Anything that sounds, smells, looks, or is spelled like a science project ingredient probably is, and doesn't belong in your gummy!
INTRODUCING BOTANY SCIENTIFICS GUMMIES
Now that you know some of the ingredients to avoid in gummies, you can make educated decisions on your next wellness shopping spree. Everyone loves the taste of gummies, but I'll bet you double check all of those ingredients Botany Scientifics gummies have been formulated with potency in mind. Not only are ALL of the "artificials" left off of our label, the ingredients we do have are pure, clean, and certified.
You can try one at a time, or try them all. They are all good choices:
DO GUMMIES WORK?
So, the bottom line. Do gummies work, and can they be trusted?
Gummies can be trusted so long as they do not have any of the nasty "artificials" on the label. If your gummies are "artificial-free," then go ahead and indulge!
Good gummies are a convenient and delicious way to supplement your diet with nutrients.
*If you are concerned about any of the topics listed above, please talk to your doctor.
** These statements have not been evaluated by the FDA.